Knowing Bodies: A Visual and Poetic Inquiry into the Professoriate
Fiona Blaikie
Lakehead University, Ontario, Canada

Citation: Blaikie, F. (2009). Knowing bodies: A visual and poetic inquiry into the professoriate. International Journal of Education & the Arts, 10(8). Retrieved [date] from http://www.ijea.org/v10n8/.
Abstract
Through arts-informed research (Cole & Knowles, 2007) I explore visual identity and scholarship. I conversed with and photographed Lisette, Edward, Kris, Todd, William and Theresa, asking "How are your clothing choices determined by your work as a scholar?" The photographs and transcripts inspired drawings, paintings and poetry. The study confirms that clothes are negotiated expressions of self and visual identity with the body as mediator (Braziel & LeBesco, 2001; Butler, 1993; Davis, 1997; Holliday & Hassard 2001; Shilling, 1993); scholars' clothing choices are gendered (Butler, 1999; Kirkham, 1996; Sanders, 1996), and female scholars strategize through dress (Kaiser, Chandler & Hammidi, 2001; Green, 2001). The poems and artworks speak of triumph and pain. They provide opportunities to reflect on arts-informed research, the aesthetics of the clothed body, the body and social theory, and the semiotics of clothing.

Visual Abstract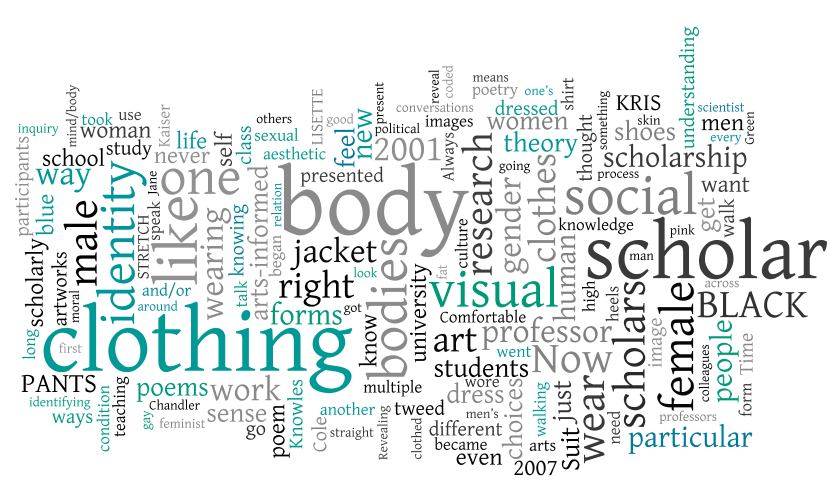 This article is available in PDF format.