Living the Divine Spiritually and Politically
Art, Ritual and Performative Pedagogy in Women's Multi-faith Leadership
Barbara Bickel
Southern Illinois University - Carbondale, U.S.A.
Citation: Bickel, B. (2010). Living the divine spiritually and politically: Art, ritual and performative pedagogy in women's multi-faith leadership. International Journal of Education & the Arts, 11(Portrayal 1). Retrieved [date] from http://www.ijea.org/v11p1/.
Abstract
A/r/tography and mindful inquiry were engaged as primary approaches to assist self and group reflection within a group of fourteen women committed to multi-faith education and leadership in their communities. In a world of increasing religious/political tensions and conflicts this study asks, what is the transformative significance of an arts and ritual-based approach to developing and encouraging women's spiritual and multi-faith leadership? To counter destructive worldviews and practices that have divided people historically, politically, personally and sacredly, the study reinforces the political and spiritual value of women spiritual and multi-faith leaders creating and holding sacred space for truth making and world making. This study led to a renewal of compassionate leadership within many of the women. This study posits that engaging performative pedagogy within a sacred and creative ritual sanctuary, can assist women to lead integrated spiritual and political lives, while building communities that are respectful, embracing of diversity and capable of learning through diversity.

Visual Abstract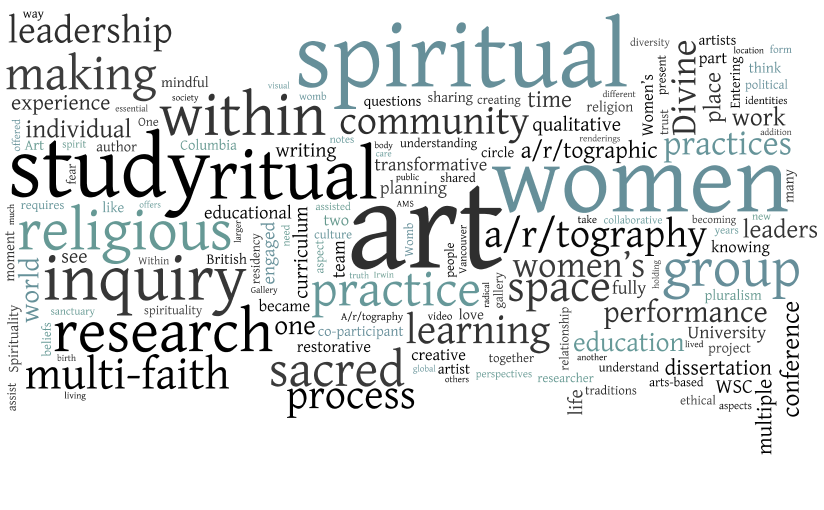 This article is available in PDF format with embedded video. ~ 11.7Mb
This article is available in PDF format with link to online video. ~ 567Kb