2011 Volume 12
Articles and Abstracts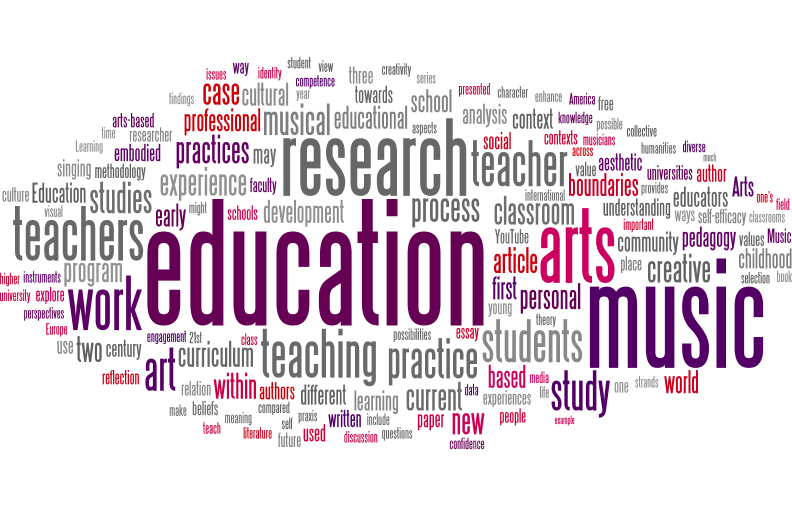 Articles
---
Special Issues
This Special Edition of the Arts & Learning Research Journal, graciously hosted by the International Journal of Education in the Arts, marks the first online-only presence of our journal. This is an exciting transition for Arts & Learning, which has been a scholarly print journal for over 25 years. As explained in our 2010 Call for Papers, we were interested in exploring how an online venue might expand creative presentations of research, and visually enhance scholarship in the arts.
As the Guest Editor for Arts & Learning's online emergence, I was fascinated by the diversity in thinking that researchers are currently exploring in the arts. Jennifer Katz-Buonincontro examines the ways that aesthetic knowing influences leadership decisions by looking at several models in the field. She reminds us that there is artistry in leadership, which is seen through organizational beauty, the value of a greater good in leadership design, empathy, and somatic awareness--an embodied knowledge that shapes leadership's expression.
Gianna Di Reeze and Kathy Mantas likewise connect us to tacit understandings by making the embodied experience of teaching and learning a personal, social practice. They reclaim and reframe the many avenues that instructors might mindfully contribute to the growth of learners.
By exploring the social influences inherent in the creative process, Miriam Giguere adds new categories to our aesthetic understanding of what children intuitively feel about their efforts to create with their bodies, and through their bodies. The research shows that their collaboration opens voluntary connections developed through negotiation and trust, and a belief in the efficacy of their own ideas.
Matt Omasta, the Arts & Learning Dissertation Award Winner of 2010, illumines how emotions influence beliefs in a study that examines middle school students' reactions to theatrical performance. The embodied emotions that are caught appear to shape the cognitive processes and establish new meanings--about one's self and about others.
Through three case studies that involve arts-based projects, Joe Norris offers a glimpse of what it means to qualitatively embrace differences and develop assessment that might better navigate future instruction in the arts. What is our responsibility, for example, to those who wish to move toward poesis in their arts-based expressions? How can work be assessed differently when it shifts from a more pedagogically based exercise?
Readers have an opportunity to explore the strengths of a community-based art model through an intriguing look at a film school in the work of Ching-Chiu Lin, Juan Carlos Castro, and Kit Grauer. Set in the idyllic beauty of a remote island in British Columbia, their research shows how the film school encouraged students to leave school boundaries, take risks, explore tension as part of the process, and develop ideas that had both personal and collective significance.
In "Performing an Archive of Resistance," authors Claire Robson, Dennis Sumara, and Rebecca Luce-Kapler explore through two different population studies how fictional identities created through reading and writing practices influence the formation of one's consciousness. They cite new perspectives that illustrate how participation in reading, writing and responding can create and transform conscious engagement, placing it once again within the body and not simply as a function of the mind/brain. The authors ask important questions for all research in education: "If we consider the embodied self a situation, how do we change it? And when?"
Melanie Burdick delves into the possibilities of found poetry as research methodology, describing her work with two teachers in converting transcriptions of interviews into poetic forms that could be shared and compared as ways of reflecting upon experience in new ways. The revelations that can occur through this multiplication of languages and perspectives suggests the rich potential of this arts-based approach to research.
---
Lived Aesthetic Inquiries
This paper explores the positivist, museum-based, and touristic constructions of indigenous cultures in the Americas, as represented in the DK Eyewitness series, and then overturns these constructions using an artist book created by the authors. In our analysis of the nonfiction series, we identified three trajectories: cataloguing, consignment to the past, and pleasurable display. Using techniques borrowed from "new historiography" and the decolonizing methodologies of Linda Tuhiwai Smith (1999), we suggest ways in which adults and young people might "speak back" to these positivist paradigms.
This paper begins with a brief discussion of aesthetic theory, especially as it relates to art education. Then, to see how theory may apply to practice, it describes an investigation into the manner in which encounters with artworks unfold, how meanings are constructed and values articulated, based on the study of four volunteers' interactions with two artworks that lend themselves to variable responses, especially in regard to social and cultural issues. The study relies on participant mapping of the individual moments of their encounters and their subsequent reflections on the experience.
This paper tells the story of a researcher's analysis process that became a journey to an unfamiliar place and, ultimately, to a new way of conceiving analysis and a new way of seeing--at least, new to me as researcher. The study was an analysis of interview data gleaned from a series of conversations about what it is to be a musician.i I had interviewed about forty highly accomplished professional musicians inviting them to talk about their musicianship and how they think they learned what they know--from whom, under what circumstances, and at what points in their lives. From transcription and analysis of the transcripts and recordings, a wide range of themes had emerged, reflecting visions of musicianship, the nature of participants' music learning experiences, and insight into their musical lives. In this paper, I explore one of these themes: the physical nature of musical knowing and experience.
---
Interludes
Written in the first person and drawing from an autoethnographic methodological framework, this essay shares aspirations, experiences, and reflections on a faculty member's professional work in a large U.S. public research-oriented university, focusing specifically on her attempts to reconcile her service-oriented civic engagement work with her university's priorities and workplace conditions. The author positions her work within a larger community of practice in art education higher education, a community dedicated to embracing cultural diversity and social justice, and whose work now takes place in multiple sites, including but not limited to schools and universities. The author establishes linkages between contemporary art education values and aims, and recently popular writings about the creative class, the new creative economy, and the contributions of cultural creatives to community development. These connections help the author establish a personal philosophical foundation for her current work and to explore an entrepreneurial framework-both as a means of facilitating her own public engagement projects and for advancing public engagement as a legitimate form of university faculty work. The essay is written as a reflective narrative about lessons learned in pursuit of these aims. Through utilization of short stories (or vignettes) of some of the author's public-engagement-oriented work, she identifies entrepreneurial strategies that have facilitated this work along with problems encountered, uncertainties, and failures. The essay concludes with an optimistic but untested proposition that university faculty members may make a difference in the world not only through their service-oriented civic endeavors, but also in their ability to help shape and improve university institutional conditions that make this work possible. As the author concludes, being connected to a community of practice beyond ones current place of employment is central to these goals.
As a new century unfolds, the "downsizing" and continuing marginalization of the humanities, including theatre, in American higher education correspond to three trends in the academy. First, in response to the fiscal crises that began in the late 1970s, universities have increasingly turned to the private sector for financial support as federal and state funding has been reduced. Second, universities have become progressively more market-driven, and so, commercialized. In this context, departments in the arts and humanities are often accused of losing their intellectual anchors. Third, students' intentions for the bachelor of arts degree have simultaneously shifted from developing intellectual qualities and a philosophy of life to that of preparing for economic security. As a consequence of the changing definitions of liberal arts education, subjects in the arts and humanities will have to reconsider their missions and curricular practices in order to attract students and remain relevant.
---
Book Reviews