2012 Volume 13
Articles and Abstracts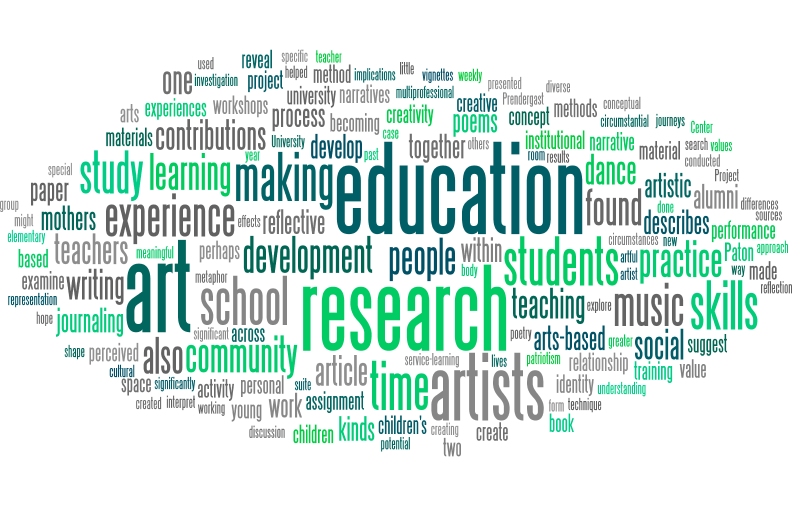 Articles
---
Lived Aesthetic Inquries
This article describes a collaborative project among the author of a book about mothers and special education (based on a collection of oral narratives of mothers who represent diverse generations, races, and social classes), a playwright, and an artist. Together, they created a theatrical and visual staging of the author's narrative research. The staged reading included a post-performance discussion with the cast, two mothers whose narratives appear in the work, the co-authors and the audience. This discussion indicated a positive response to this alternative form of research representation and generated meaningful dialogue about mothers' experiences with special education and its unintended consequences in the lives of their families.
---
Interludes
What kinds of things do we research when we use arts-based research? And when we apply arts-based research to educational contexts, what kinds of contributions to the scholarship of learning and teaching can we make?
Taking as its basis three case studies in which art processes were used to investigate culture and identity, this essay examines the kinds of questions arts-based research might seek to answer. At the same time as it acknowledges the value of the less definable and often holistic kinds of knowing that may result through the use of art tools and aesthetic analysis, it also argues for the usefulness of strategic focus on specific frames of investigation and specific outcomes. It further examines the relationship between arts-based research and learning.
Embracing metaphor as method (Prendergast, 2005; see also Prendergast, 2006a, 2006b, 2008a), which I suggest is a key characteristic of thinking poetically and doing poetic inquiry, is the process conveyed in this suite of found poems. The investigation began with a cross-disciplinary scholarly database search on the term "education as art" that asked: How has education been conceived as artful over time? This search led to (sadly but unsurprisingly) very few sources that explicitly employ this metaphor. However, what was discovered was powerful enough to warrant interpretation through poetic transcription and representation in a suite of found poems. These poems reveal the frustration, even rage, of those who wish to re-vision education as artful. They also reveal hopeful (perhaps utopian) views of what education could look like if re-conceived as the enculturation of artists. These found poems were presented as part of a keynote lecture to Ph.D. education students at the University of Minho, Braga, Portugal in April of 2011.
---
Book Reviews
Book Reviewed: Paton, R. (2011). Lifemusic: Connecting People to Time. Dorset, Great Britain: Archive Publishing. ISBN 9781906289140.
Rod Paton is a composer, horn player specializing in jazz and improvisation, and senior lecturer at the University of Chichester. He is also a community musician and tireless defender of everyone's right to music regardless of training or background. In Lifemusic: Connecting people to time, Paton describes the philosophy and practice of his concept based on creative improvisation and a participatory ideal. Following Christopher Small's clarion call (in Stevens, 1985) to "give back to people the music that belongs to them", Paton makes a case against what he describes as hegemonies that are dependent on experts who create, control and mediate musical activity, reducing others to passive consumers. He agrees fully with Small about the problematic social implications of musicianship and music education under these circumstances, notably cultural imperialism and the way practices intimidate the uninitiated by demanding normative perfection.
Book Reviewed: Hebert, D., & Kertz-Welzel, A. (2012). Patriotism and nationalism in music education. Farnham, UK: Ashgate. ISBN 978-1-4094-3080-3.
This book is a brave first attempt to bring together information and arguments relevant to an understanding of how patriotism and nationalism intersect with music education. As such, it both stands as a "must read" resource for anyone interested in this topic, and also as an indication of how little we know in depth about the effects of patriotism on music teachers and the young people they teach. There are many empirical studies that are begging to be done, and I hope this book stimulates some researchers to undertake them.